FastFold UPVC Bifolding Doors
The FastFold range of UPVC bifolding doors from FastFoldUK are designed to create a modern elegant finish to your room. Bringing the outdoors in, with our high quality, market leading, secure bifolding doors
UPVC bifolding doors are are the perfect choice in any home. Offering exceptional thermal efficiency keeping the home warm in winter and cooler in summer.
FastFoldUK only use premium quality UPVC for long lasting results. The exquiste German engineered hardware ensures each bifolding door is easy to operate and gives you a lifetime of use.
All bifolding doors from FastFoldUK can be completely tailored to your specifications, with a vast choice of opening options, the doors can open in or out and can be manfactured in any RAL colour to suit your home.
High up on the list of proities for any home owner is to ensure their home is fully secure, so at FastFoldUK we fit a multi point locking system to each of our bifolding doors for added security.
With more choice than ever, FastFoldUK now offer a new range of real wood foiled profiles to providing your home with a highend up market authentic timber look at a fraction of the price.
With over 3000 sets supplied and installed throught the uk and europe you can be sure that fastfold upvc bi folding doors are the first choice for upvc folding doors.
As a dedicated bifolding door specialist with thousands of sets installed and supplied in some of the most prestigious residential buildings in the UK and Europe.
You can be confident in purchasing this superb folding door product we offer at FastFoldUK at competative prices.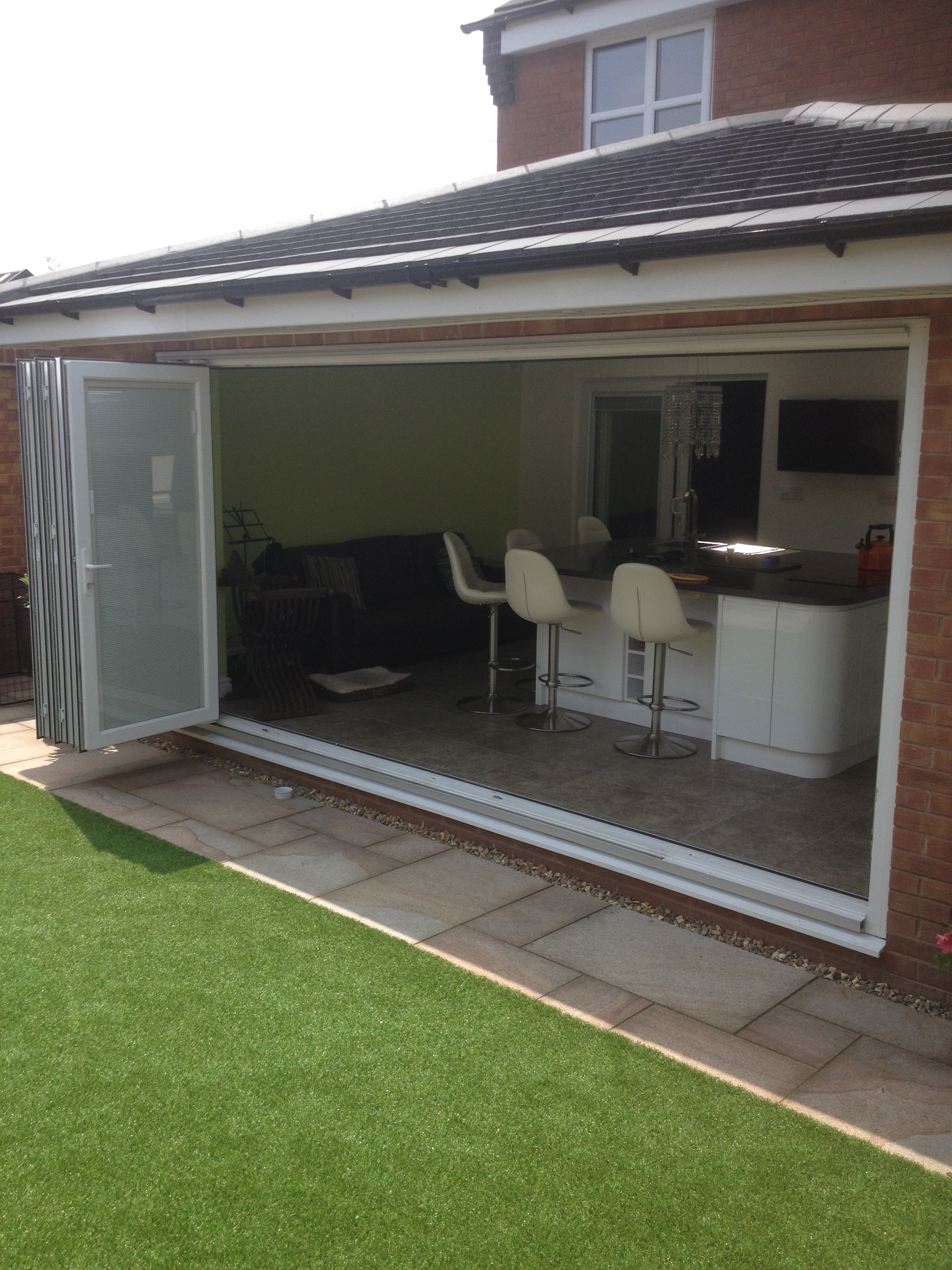 Thank you so much for our amazing new folding doors, they are just perfect and really open up our kitchen dining area. I can not believe the total transformation it has made to our light and the space. A special thank you to the fitting team who took great care in their work and made sure they tidied up after themselves. I am proud as punch of my new folding doors.
UVPC Bifolding Doors from FastfoldUK
The Fastfold series of UPVC bifolding doors from FastfoldUK are the most cost effective,premium quality UPVC folding door on the UK market today.
All our UPVC doors are manufactured and designed in our factory using precision machinery to ensure perfect folding doors all of the time.
With premium quality hardware fitted for ease of operation you can be sure your new bifolding doors will not only look amazing in your home but they will perform exceptionally,while still being cost effective.
With a wide range of opening options, made to measure fittings and full UK installation available you can be sure that the Fastfold series of folding doors will complement your home, office or garden room.
Features
The Fastfold range of bifolding doors from FastFoldUK have some of the most innovative and advanced features available in the UK including the highest security locks and gliding technology. For more information, hover over the icons below or for a detailed breakdown see our tech spec.
Fastfold Bifolding Doors Customisation
The Fastfold range from Fastfold UK is made to measure, manufactured using the highest quality materials to be robust and easy to operate, in addition to achieving the highest levels of security available today.
Specification Overview:
MATERIALS 5 CHAMBERED 70MM UPVC PROFILE
SIZE RANGE 1400MM TO 6000MM
STANDARD GLAZING 

LOW E 28MM DOUBLE GLAZED UNIT
FRAME SIZE

70MM
WEATHERING

FULLY WEATHERED DUAL GASKETS, FULLY WELDED
HARDWARE

HIGH GRADE FITTINGS WHITE AS STANDARD
LOCKING SYSTEM

4 POINT HIGH SECURITY LOCK
GUARANTEE 10 YEAR MANUFACTURERS WARRANTY.
GLASS SAFETY

BSEN12150
OPENING TYPE

OPENS IN OR OUT
FOLDING HARDWARE

HIGH PRECISION 4 WHEELED SLIDING SYSTEM
For a more detailed specification and complete technical breakdown please see our technical specifications. Arichetes may find our further information more useful
Fastfold UK only use the most advanced glazing options in your made to measure bifolding doors.
Choose from:
AS STANDARD 1.6u Plainbel Low-E Toughened Glass
UPGRADE 1.4u Pilkington Optiwhite K Toughened Glass with Thermobar Warm Edge Spacer Bar
PREMIUM 1.2u SSG PLANITHERM TOTAL energy efficient glass

The world is your oyster when it comes to deciding on which colour to order for your new bifolding doors. Of course there are standard colours most of our clients tend to choose, but if you wanted to make your new bifold doors more unique and personalised to you that is absolutely no problem with Fastfold, you can choose from the full range of RAL colours below.
Options:
STANDARD INSIDE White, Black, Grey, Rosewood, Oak, Green
STANDARD OUTSIDE White, Black, Grey, Rosewood, Oak, Green
RAL COLOURS The chart below displays the full range of colours to customise both inside and outside frames.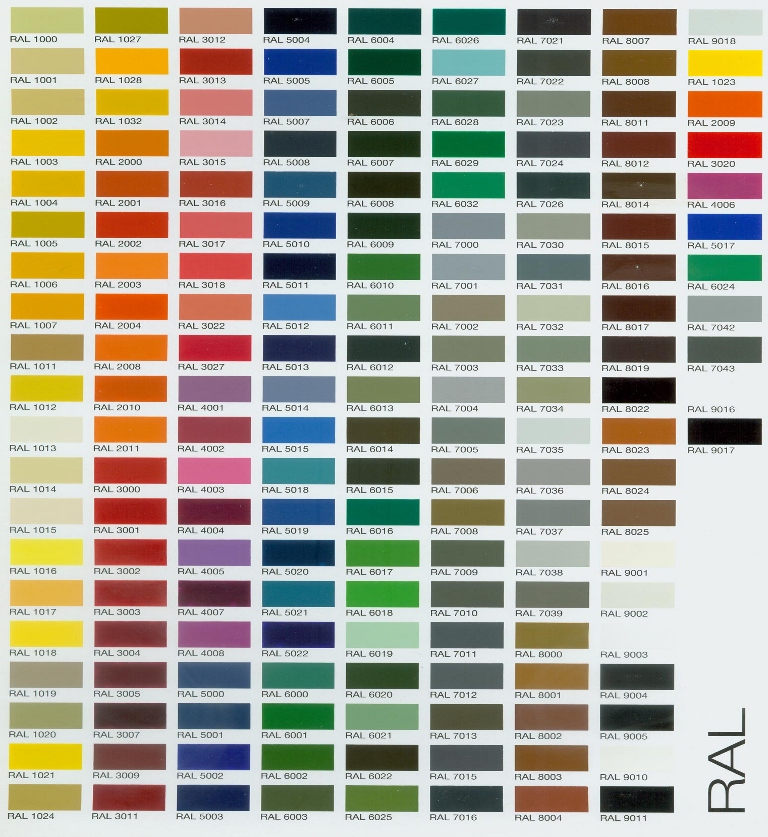 Now is the time to start customising your bifolding doors and building the doors for your dream home. Simply fill out your requirements below and Fastfold UK will get back to you with your tailored quote.
The Fastfold UK way:
WARRANTY An amazing 10 year manufacturers warranty for extra ease of mind.
INSTALLATION You decide if you want your bifolding doors fully fitted by our team of experts or on a supply only basis.
DELIVERY National delivery available.


Fill Up the Form For Custom Order
Contact Us
Get in touch with us today to see how FastFoldUK can help you transform your home.